This is just a lame fan art done in PS, it's not available in stores and it never will. I'm just addicted to the fusion feature in MUA 2, so I thought it'd be fun to make a Naruto version of it LOL. XD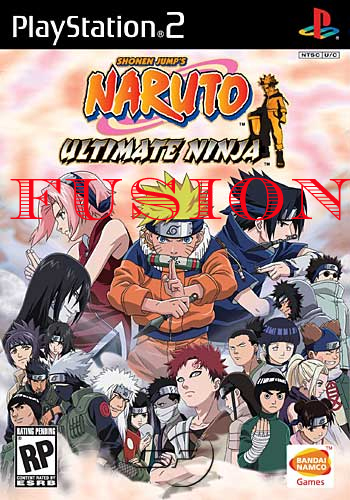 Game Modes
1. Story Mode
2. Missions
3. Free Battle
4. Practice
5. Shop
6. Naruto's House
Story Mode
It's a bit different from the original 1st Ultimate Ninja game, you can explore the entire world and play from the beginning to the end of genin training arc. The chakra orbs are blue now but the health bar, chakra bar, secret techniques, are still the same. Naruto's Rasengan is a bonus jutsu in this game and you can only unlock it by completing all the missions.
Missions
Those missions are different from the story mode, you just fight people.
Free Battle
Select a character and fight another character you wish.
Practice
Same as free battle.
Shop
The shop is better from the original game, you can select an item to buy instead of wasting your time rolling balls and then nothing comes out.
Naruto
View everything you've bought here.
Playable Characters
1. Naruto
2. Sasuke
3. Sakura
4. Kakashi
5. Haku
6. Zabuza
7. Shikamaru
8. Ino
9. Choji
10. Neji
11. Hinata
12. Ten Ten
13. Lee
14. Guy
15. Kyubi Naruto
16. Curse Mark Sasuke
New Features
A lot of features in this game are the same in the original, but in this game you can do 1 vs. 1, 1 vs. 2, 2 vs. 1, 2 vs. 2, 1 vs. 3, 2 vs. 3, 3 vs. 1, 3 vs. 2, and 3 vs. 3 battles. The other character(s) you have is your fusion character and he/she can help you do a fusion attack.
Bonus Characters
1. Teuchi
2. Ayame
3. Goku
4. Gohan
5. Vegeta
6. Wolverine
7. Person
8. Old Person
9. Wrestler
10. Konohamaru
11. Moegi
12. Udon
Bonus Jutsus
1. Rasengan
2. Kyubi Rasengan
Fusions
1. Lightning Release Rasengan (Naruto + Sasuke/Kakashi)
2. Double Dynamic Entry (Lee + Guy)
3. Teamwork (Shikamaru + Choji)
4. Sasuke's Demon Wind Bomb (Sasuke + Naruto)
5. Cheesecake Jutsu (Konohamaru + Moegi + Udon)
6. Dark Lightning Release Rasengan (Naruto + Curse Mark Sasuke)
7. Lightning Release Kyubi Rasengan (Kyubi Naruto + Sasuke)
8. Dark Lightning Release Kyubi Rasengan (Kyubi Naruto + Curse Mark Sasuke)
Bonus Fusions
1. Father Son Kamehameha (Goku + Gohan)
2. Gogeta (Goku + Vegeta)
3. Vegeto (Goku + Vegeta)

Daisuke Ozuru

Adult Saiyan





Posts

: 227


Join date

: 2009-07-27


Location

: N/A

Character sheet


Main character info

:


Level, Stats and Skills

:


Health

:


(100/100)



---
Permissions in this forum:
You
cannot
reply to topics in this forum